Coffee Pod Holders
On the page below, you will find out range of coffee pod holders. For those of you with a Nespresso machine or a Dolche Gusto machine, you need look no further to find a suitable holder for all your favourite coffee pods. The holders on the page below are suitable for holding different amounts of coffee pods, so whether you only use your coffee machine every now and again or several times a day, you will find the perfect size holder for your favourite coffee pods right here. View the collection below to find your favourite model.
There are no products matching the selection.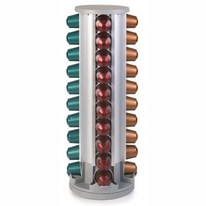 Coffee Pod Holder Ibili Nespresso Cups Aluminium 40 Pods
Nespresso Pod Holder
Within our collection of coffee pod holders, you will find that there are several models that are suitable for Nespresso coffee machines. These Nespresso pod holders come from the quality brand Ibili and are perfect for placing next to your coffee machine. Not only do they ensure a stylish appearance, but they also offer a very practical solution for storing your favourite coffee pods. Take a look at the range above to find the perfect size for you.
Dolche Gusto Pod Holder
Alongside our collection of Nespresso pod holders, you will also find that there are some models of coffee pod holders that are suitable for Dolche Gusto coffee pods. These Dolche Gusto pod holders are also from the brand Ibili and ensure that you can store your coffee pods in a very efficient way. Not only are these holders efficient, but they will also look very stylish on your kitchen counter next to your coffee machine. Choose your favourite pods and display them proudly with a Dolche Gusto pod holder from our range here at Cookwarestore.