Utensil Set
If you're looking for a brand new set of kitchen utensils, or if you simply want to ensure that all of your cooking tools are in a matching design, then you're in the right place. On the page below, you will find the different sets of utensils that we offer here at Cookwarestore. These utensil sets include all the tools that you could need for your daily cooking tasks, such as a spatula, serving spoons or ladles, a skimmer, and much more. These utensil sets ensure that you have everything you need in reach and ensure a matching, harmonious look in your kitchen.
There are no products matching the selection.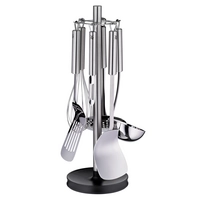 Kitchen Tool Set WMF Profi Plus (7 pcs)
Kitchen Utensil Set
If you want your kitchen utensils to match, then be sure to have a look at the great kitchen utensil sets that we have on offer here at Cookwarestore. You will find sets of varying sizes in our assortment, with some offering extra handy features. For example, some of the utensil sets in our range also include a handy utensil holder or rack from which you can hang each tool. Stylish and practical in one!