Bread Knife
Here at Cookwarestore, you will find an extensive range of bread knives from the most renowned brands on the market. Because we only offer products from brands that value quality, you can rest assured that you will be able to enjoy using any of the knives in this collection for years to come. In our assortment you will find high quality bread knives from BergHOFF, Global, WMF, and many more top brands. Find out more about each individual knife by clicking on the images below.
There are no products matching the selection.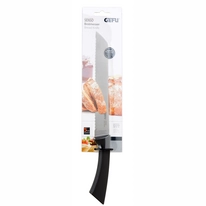 Bread Knives
Bread knives are equipped with serrated edges, which ensure that you can cut through loaves of bread without it tearing or crumbling. The bread knives in our range can be used for all kinds of bread, soft or hard. We offer very high quality bread knives that will last for years from some of the most renowned kitchen knife brands, including WMF, Diamant Sabatier, and Global. These knives can be used by both professional and budding chefs.