Sorted by
Type of Knife
Material
Colour
Brand
Series
Blade Material
Serrated
Handle Material
Granton Edge
Blade Length (cm)
Price
Discount
SHOW RESULTS (

9

)
Cheese Knife
Below you can find all our cheese knives. Whether you want to slice cheese for a sandwich or toastie or if you're preparing a delectable cheese board as a final course, you will find the perfect cheese knife in our assortment. Often cheese knives have a sort of fork at the top, with which you can grip a slice or piece of cheese. Others have holes in the middle, which helps to prevent the cheese sticking to the knife, and also makes it easier to cut through softer cheeses. All knives in our cheese collection are of very high quality, so you will be able to enjoy preparing and serving cheese in style for years to come.
There are no products matching the selection.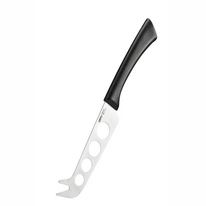 Tomato & Cheese Knife Diamant Sabatier Integra
Cheese Knives
A cheese knife, as the name suggests, is used to cut cheese. These knives often have a blade that ends in a sharp point, which can be used to pick up a block of cheese. Cheese knives are available with a serrated or smooth blade, and with a blade with or without dimples. These dimples ensure that the cheese does not stick to your knife after cutting. You will find a wide range of cheese knives in our collection, which means that there is the perfect knife for every task.