Mixing Bowl
For anyone who enjoys baking, a mixing bowl should not be missing in your collection of kitchen accessories. Mixing bowls are (as the name implies) ideal for mixing various ingredients together, whether you're making pancake batter, cake mix, whipping up cream, or any other delicious treat. Here at Cookwarestore you will find a wide range of mixing bowls in different models and sizes, so no matter the quanitity of the ingredients you need to mix, you will certainly find the right mixing bowl here. You will also find a collection of mixing bowl sets in our range, which means that you will always have the perfect mixing bowl for the occasion.
There are no products matching the selection.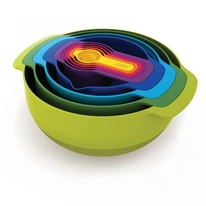 Bowl Set Joseph Joseph Multi (9 pcs)
Baking Bowl
A mixing bowl is the ideal kitchen aid for all bakers, whether professional or beginner. This type of bowl is often provided with high edges, so you don't have to worry about spilling or whisking too vigorously. In our handy assortment of baking bowls you will find both plastic and stainless steel models, so you have plenty to choose from. We also have batter bowls in different sizes and we also offer a few bowls sets. Curious to see what we can offer you? Then take a look at the range of mixing bowls on the page above!