Sorted by
Material
Colour
Brand
Suitable For
Capacity (litres)
Dishwasher Safe
Length (cm)
Width (cm)
Price
Discount
SHOW RESULTS (

2

)
Tagine
The tagine, sometimes spelled tajine, comes from Moroccan cuisine and is a slow cooking pot made of pottery. A tagine consists of two parts; a bowl and a high conical lid and has about the same effect as a casserole. The evaporated moisture flows back onto the ingredients via the special dome-shaped lid. As a result, the food retains vitamins and minerals better, and the dish also remains wonderfully juicy. Have a look at our collection of tagines on the page below, including models from some of the best cookware brands on the market, such as Le Creuset and Emile Henry.
There are no products matching the selection.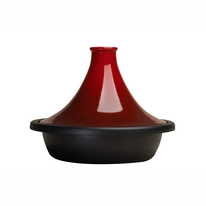 Pre-order
Tagine Le Creuset Cherry Red 31 cm
Tagine Pot
The tagine is a pot that has its origins in Moroccan cuisine. When cooking with a tagine, condensation precipitates on the lid of the pan and this condensation then flows back into the dish, so the operation of a tagine can be compared to that of a casserole, as it acts to retain as much moisture as possible, resulting in a deliciously juicy dish. View our collection of tagines on the page above to create the must succulent meals.