Washing Up Bowl
On the page below, you will find our range of washing up bowls. A washing up bowl is very handy when doing the washing up, for a number of reasons. Using a washing up bowl can help to save water, as you don't need to leave the tap running. A bowl is also ideal if you need to leave items with more tough, stuck on food to soak for a while. The washing up bowls in our range come from top quality brands, such as Joseph Joseph, that offer innovative solutions for the kitchen that will making cooking and cleaning as straightforward as possible.
There are no products matching the selection.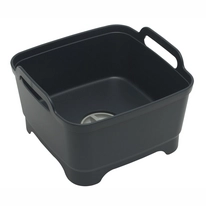 Washing Up Bowl Joseph Joseph Wash&Drain Grey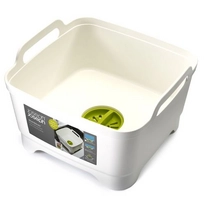 Washing Up Bowl Joseph Joseph Wash&Drain White
Washing Bowl
If you like to soak items before rinsing them, or perhaps you are looking to save more water, then a washing bowl for your sink could be the answer. Washing up bowls are a very handy tool to have in your sink. The options in our assortment have handy designs that will make the cleaning up less of a chore. Models from Joseph Joseph, for example, offer a range of handy features, such as a draining function, which makes the washing up really easy and ensures that the bowl itself stays more clean.