Sensor Bin
A kitchen bin with a sensor for the opening is very handy, because you can even use it when you have your hands full with things. All you have to do with a sensor kitchen bin is move your hand over the bin and the lid will open for you by itself! Sensor bins are also very hygienic and quiet, because they often have a silent opening and closure and do not need to be touched. In short, an absolute must-have for every kitchen! The sensor bins in our assortment come from some of the best brands on the market, such as EKO and Wesco, so top quality is guaranteed.
There are no products matching the selection.
Wesco i.Master Double 40 L Matte Cool Grey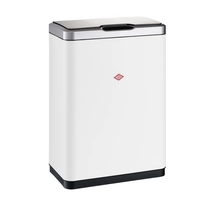 Wesco i.Master Double 40 L Matte White
Kitchen Sensor Bin
A kitchen sensor bin offers a number of advantages, but chiefly ensures that the bin always remains more hygienic than a regular kitchen bin. This is because you never actually have to touch the lid of the bin, so no waste will get on the lid. This will help you to keep your kitchen looking spick-and-span. As well as being highly practical, the sensor kitchen bins in our range are available in various stylish designs, so they will always add to the luxurious appearance of your kitchen instead of hindering it.