Muffin Tin
If you love freshly baked muffins, then why not make them from the comfort of your own home? Baking the tastiest muffins at home is made easy with the excellent range of muffin tins in our baking collection here at Cookwarestore. A muffin tin offers space for cooking individual muffins, ensuring that you can easily bake an evenly-sized batch of muffins in no time. The muffin tins in our range are available in different sizes, so whether you're looking to whip up a small batch of breakfast muffins or enough for all your family and friends, you will find the perfect tin right here at Cookwarestore.
There are no products matching the selection.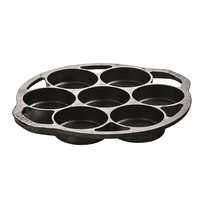 Muffin Tray
Whip up a fresh batch of homemade muffins in a jiffy with a muffin tray from Cookwarestore! Muffins are great fun to make, to eat, and to hand out. To ensure that you end up with muffins in a perfect shape, make sure you bake them in a top quality muffin tray. You can choose to bake 6, 12, or even 24 muffins in one go! Choose from the wide range of muffin trays in our assortment to make the tastiest muffins from the comfort of your own kitchen.