Cleaver
Cleavers, often referred to as Chinese chopping knives or butcher's knives, are great for chopping a range of ingredients at a fast pace, but are of course perfect for preparing and chopping cuts of meat. Cleavers are a favourite of butcher's, because they are ideal for splitting meat from the bone, and preparing the perfect cuts. As well as for cutting meat, cleavers are also ideal for cutting up larger fruits or vegetables, such as melons or squash. Smaller cleavers can even be used for dicing or chopping up herbs as well as for meat. In short: perfect for any meat lover who wants to prepare the perfect joints of meat!
There are no products matching the selection.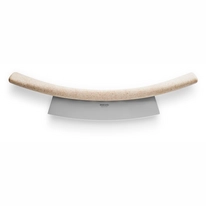 Eva Solo Green Tool Herb Chopper 18 cm
Meat Cleaver
A meat cleaver can be used to easily chop bones and joints in meat. One of the big benefits of a cleaver is that you do not have to put much force into your chopping motions to get a great result. In our range of cleavers, you will find knives from renowned brands with blades made from different materials such as stainless steel and carbon steel. The blades differ in length, and there are even chopping knives available with double handles, which allow you to cut even more quickly in a rolling motion.