Skewer
A handy tool that should not be overlooked is a great set of skewers. Skewers can come in handy in a number of situations, and are particularly perfect if you want to create a delicious grilled kebab or put some meat or fish on the barbecue. All of the skewers in our assortment are made from strong and durable materials, such as rust-resistant stainless steel, which means that you will be able to enjoy using them for years to come. For top quality skewers for making a delicious grill, kebab, or barbecue, look no further than our stellar assortment on the page below.
There are no products matching the selection.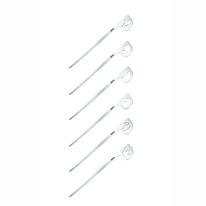 BBQ Skewers
Do you want to make a delicious skewer for the barbecue? Then you can choose above from different types of skewers that you can put on the barbecue. The skewers are all reusable, so you can make delicious skewers every year during the barbecue season. The skewers are not only useful during nice weather, but you can also use them for a delicious homemade shaslick or kebab all year round.