Measuring Cup
Whether you're cooking a delicious sauce for your dinner or baking a beautiful cake, it is very important to measure out your ingredients carefully and precisely to ensure the best result. In order to help you do this, we have included a great selection of measuring cups, measuring jugs, and measuring spoons in our assortment. These products will help you to get the perfect amount of each ingredient to ensure that tastiest end result. Some of the measuring cups in our assortment even offer the option to weigh out dry ingredients! For a wide range of high quality measuring cups, look no further than Cookwarestore!
There are no products matching the selection.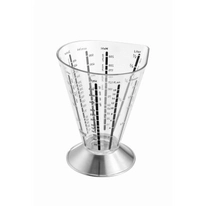 Measuring Jug
"Add 100 ml of water .." is a common step when cooking and baking. A measuring cup or measuring jug is therefore indispensable to measure this precisely. On the side of the measuring jug you can read exactly the contents of the jug so that you are always sure how much liquid you are using. We here at Cookwarestore offer measuring jugs from high-quality brands, such as the popular OXO and the well-known WMF. Browse our collection on the page above.