Drying Rack
To make sure that your washing up doesn't pile up while you're cleaning, a handy drying rack or dish rack offers the perfect solution! Simply place the clean dish, pot, pan, or utensil in the rack to let it dry. You can either use a drying rack to allow most of the water to drain away, which will help you to spare your tea towels, or you can simply let the utensils stay until they are dry enough to be put back in their drawer, pot, or cupboard. The drying racks in our assortment have innovative designs that allow your utensils to optimally dry, while also keeping your tabletops clean and tidy.
There are no products matching the selection.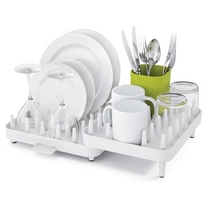 Drying Rack Joseph Joseph Connect White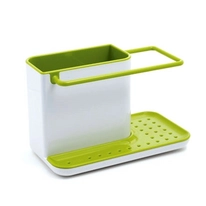 Sink Caddy Joseph Joseph Caddy Green
Dish Rack
Keep your kitchen neat and tidy with a handy dish rack from our range here at Cookwarestore. The dish racks in our collection are perfect for allowing your plates, bowls, and other dishes and utensils to dry off after you have washed them. The racks in our assortment come from top quality brands that offer innovative solutions, such as Joseph Joseph. These dish racks ensure that your tabletops remain clean and tidy, while your dishes will dry in no time. View the full range on the page above to find the perfect option for your kitchen.