Knife Set
With these knife sets, you will have all the necessary knives that you could possibly need in in instant. Having a knife set not only means that you will never need to worry about using the wrong knife for a chopping task, but it also means that all your knives will have the same look, ensuring a professional, stylish look in your kitchen. We here at Cookwarestore only supply products from top-notch brands that value quality, such as WMF, Global, or Scanpan. In the unlikely event that something is wrong with your knife set, you are often entitled to years of warranty and in most cases even a lifetime warranty.
There are no products matching the selection.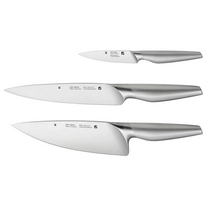 Knife Set WMF Chef's Edition (3-Piece)
Knife Set Diamant Sabatier Integra (3 pc)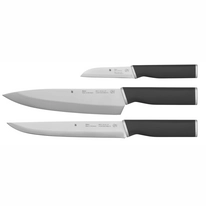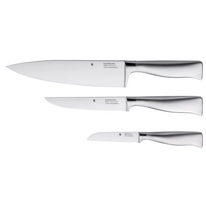 Knife Set WMF Grand Gourmet (3-Piece)
Kitchen Knife Set
With a kitchen knife set, you can easily get all the knives you need in one go. That way you don't have to select all the knives you want separately that won't have matching styles. Here at Cookwarestore, you will find knife sets that contain knives for all kinds of chopping tasks, for example, meat knives, paring knifes, bread knives, santoku knives, and so much more. In our wide range, you will find knives from renowned brands that deliver high quality products, including Global and WMF.