Peugeot Brand
Peugeot History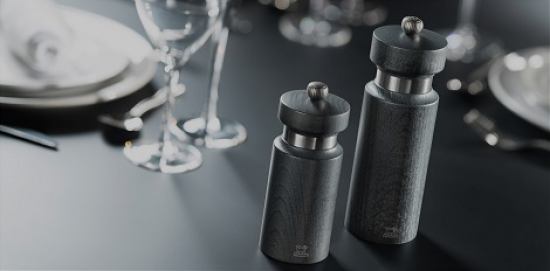 The Peugeot family started with the production of rolled steel and springs in 1810. 30 years later in 1840, the first coffee mill made of wood and sheet steel was introduced. Their development of mills continued up to 1874, when Peugeot produced the first table pepper mill as we know it today.

Over the years, more and more salt and pepper mills have been introduced by Peugeot. Hostellerie and Auberge models, that are absolute classics today, were introduced to the market in the 1950s. These two models can still be found in the Peugeot range. The most iconic salt and pepper mill design is the Paris model, introduced in 1987. The Peugeot Paris model is now the biggest series in the brand's assortment.

The first electric salt and pepper mill from Peugeot came out in 1997, the Laval model. With this technology, it became possible to use a salt and pepper mill with one hand. Shortly thereafter in 2004, the U-Select technology was added to Peugeot pepper mills. This system ensures that you can adjust the grinding degree and determine the taste in your dish to perfection.
Which sorts of Peugeot salt and pepper mill can you choose?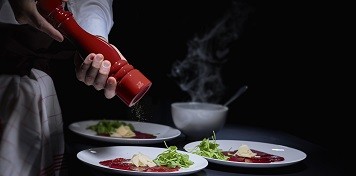 Classic
Classic, manual Peugeot salt and pepper mills are ideal for creating a traditional experience when using a spice mill. Classic salt and pepper mills are simple in design and are easy to use. The grinder of the salt and pepper mill has been carefully designed. Peugeot finds the quality of the grinder so excellent that they offer a lifetime guarantee on it. These mills are available in wood, acrylic, stainless steel, and other materials and colours.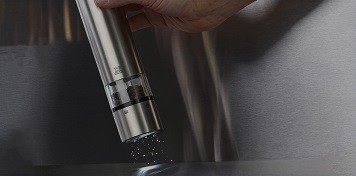 Electric
Electric salt and pepper mills work in essentially the same way as the traditional mills. The difference is in the way you handle the mill. With a traditional mill, you twist the mill yourself so that your spices are ground. With an electric salt and pepper, mill this is done by an electric motor, so you do not need to twist the mill. This means that you can easily operate your salt and pepper mill with one hand with the simple press of a button.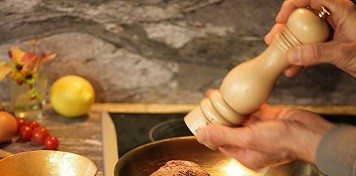 U-Select
Salt and pepper mills with U-Select technology give you the option to determine the grinding coarseness of your mill with extreme accuracy. With U-Select, you can choose between the most coarse or the finest grains so that you can give your dish the desired taste. This coarseness is easy to adjust with every U-Select mill. You can find Peugeot salt and pepper mills with U-Select in both classic and electric models.
Peugeot Collections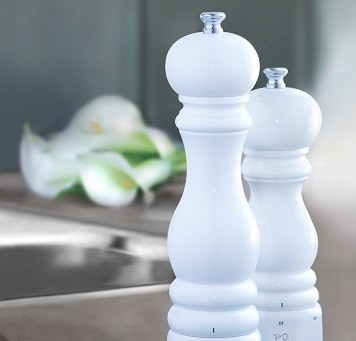 Peugeot Paris
The Paris model from Peugeot is perhaps one of the most iconic salt and pepper mills ever. The model was developed in 1987 and nowadays still fits on every dinner table. The Paris mills are available in different colours and sizes, so you are certain to find the perfect model for your kitchen or dining room table.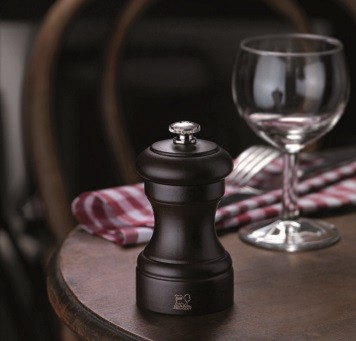 Peugeot Bistro
The salt and pepper mills from the Bistro collection are, just like other collections, are top quality and are guaranteed to have a long life. These mills are more compact, but still have a beautiful, classic design. Bistro mills are predominantly available in wood, but also in plastic and stainless steel.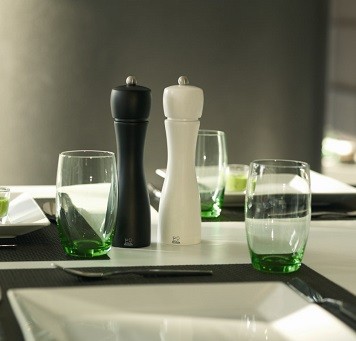 Peugeot Tahiti
Peugeot Tahiti mills have a unique design in comparison with other Peugeot mills. With the beautiful design, Peugeot Tahiti mills create a wonderful atmosphere and are suitable for virtually any table setting. Just like other mills, these products are made of top quality materials and will last for a long time.
Also available from Peugeot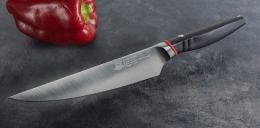 Peugeot Knives
Peugeot knives are of unrivalled quality. The blades are made of exclusive steel that ensures the ultimate protection against corrosion. Thanks to the advanced production technology used, you are guaranteed to have a great cutting experience. Peugeot simplifies your everyday life with their top quality knives.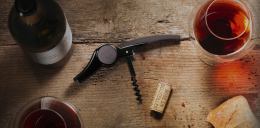 Peugeot Bottle Openers
In addition to the iconic classic Peugeot corkscrew, the brand has developed new bottle openers to simplify corking. With the clever mechanism of the corkscrews, you will find a solution for every bottle with a Peugeot bottle opener. We here at Cookwarestore offer a wide range of bottle openers from Peugeot.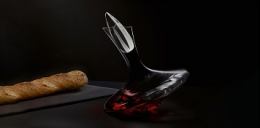 Peugeot Decanters
If you really want to impress your guests, you should take a look at the stylish decanters and carafes from Peugeot. With the elegant designs, they are a work of art for every table. It will be impossible for you to keep your eyes off it! Peugeot carafes and decanters are suitable for serving all kinds of wine.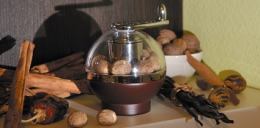 Peugeot Nutmeg Mills
Peugeot nutmeg mills are the perfect way to let the taste of nutmeg liven up your dishes. Peugeot ensures that the nuts are finely grinded. Just like the salt and pepper mills, these are made of the best quality materials. Thanks to the beautiful designs, Peugeot nutmeg mills fit perfectly in every household.
A selection from our Peugeot assortment: